Darla Caughman's Killer – Evil Was Too Close to Home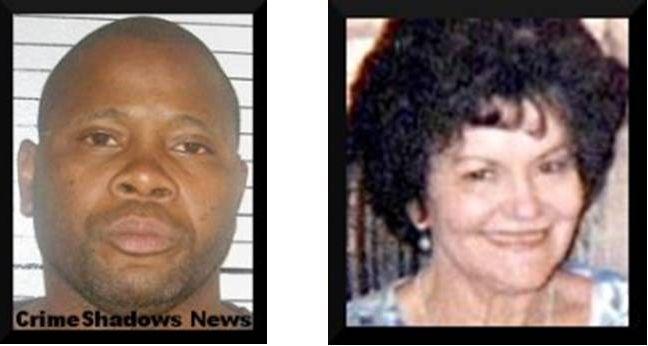 On September 30, I told you about the death of Darla Lorene Caughman. She was found stabbed to death by the woman hired to help care for her son. Last Thursday, a man was arrested in connection with the murder –the caregiver's boyfriend. That's right, Darla Caughman's body was found by the girlfriend of her killer. The caregiver introduced her boyfriend to Mrs. Caughman. The boyfriend performed odd jobs around the Caughman residence.
The alleged killer, Leon Markel Winston, was connected to the crime by DNA evidence. He was easy to apprehend for this crime, as he was already locked up for credit card fraud. Winston, 41, is being held without bond for the September 27 homicide of Darla Caughman, 62. Leon Markel Winston is a man worthy of the death penalty.
Winston, as described by OSBI agent Jessica Brown, is an "evil, evil man." Winston stabbed Darla Caughman in the neck with such force that he cut her trachea. The knife he used to kill her lodged in her spine. Then, according to Brown, he "stomped on her chest so hard that nearly every rib in her body was broken."
The health care worker has not been charged. One can't help but wonder if she had a clue as to what she would discover upon entering the residence. Authorities did say the woman alerted authorities to Winston's possible involvement.
Winston has a long list of arrests and convictions. He's a wanted man in North Carolina. Winston has a record there including convictions for larceny (several, in fact), larceny of a motor vehicle, breaking and entering, prostitution related charges, assaulting women, threats, resisting arrest, robberies, numerous bad checks, forgery, assault on police, and other charges. He is listed as an absconder in North Carolina. He's also wanted in Tulsa, Oklahoma and in Kentucky.
It appears this man was able to gain the trust of Darla Caughman. He used that trust to gain access to her home. He killed her in a most brutal way. An injection of justice waits for Leon Winston. I hope he makes it to the table.
http://crimeshadowsnews.com/main/2008/10/darla-caughmans-killer-evil-was-too-close-to-home/
BUT NOW .................
Winston waives right to jury trial
A murder suspect has waived his right to a jury trial. In exchange, the district attorney withdrew the options for the death penalty, which means prosecutors will try for a life sentence without parole.
During Tuesday's motion hearing Leon Markel Winston, who is accused of killing Darla Lovern Caughman on Sept. 27, 2008, told District Judge Jeff Payton that he didn't want to face a jury trial. Instead Winston will have a bench trial before Payton on Oct. 18.
John David Luton, first assistant district attorney, said he and Winston's family spoke at length about the decision to remove the bill of particulars.
"Everyone was in agreement. Winston went on record about waiving his right to a jury trial to avoid the death penalty. We will be seeking a sentence for life without parole," Luton said.
The state offered Winston the life without parole sentence to avoid the death penalty and a trial. Winston wouldn't accept the plea at the time.
"The state offered him a life without parole sentence last month to avoid the death penalty and a trial," Craig Corgan, Indigent Defense attorney, said.
Corgan and Corbin Brewster are the defense attorneys for Winston through the Oklahoma Indigent Defense System.
"We advised Mr. Winston to accept that plea. We will do our best to represent him, but that is better than going to a jury trial," Corgan said previously.
Winston is accused of the stabbing and blunt force trauma death of Caughman at her home north of Sallisaw. Her daughter and a health care worker found Caughman's body early in the morning. Caughman was lying in a pool of blood in the bathroom of her home. The state medical examiner reported Caughman was stabbed in the neck and severely beaten. Either injury would have caused her death, the medical examiner reported.
In Winston's preliminary hearing on the charges it was testified that he knew Caughman through a healthcare worker who helped Caughman take care of her disabled son. Some witnesses testified that Winston helped Caughman around her home, but other witnesses testified that Mrs. Caughman had expressed fear of the suspect.
Winston has been held in the Sequoyah County Jail without bond since his Oct. 10, 2008, arrest
http://www.sequoyahcountytimes.com/view/full_story/9678306/article-Winston-waives-right-to-jury-trial?instance=home_news_bullets
Best
Jacques